Greek ceramic plate depicting a Greek hoplite slays a Persian soldier (28cm)
Handmade greek ceramic plate depicting a Greek hoplite and a Persian warrior fighting each other, replica of the original 5th century B.C. kylix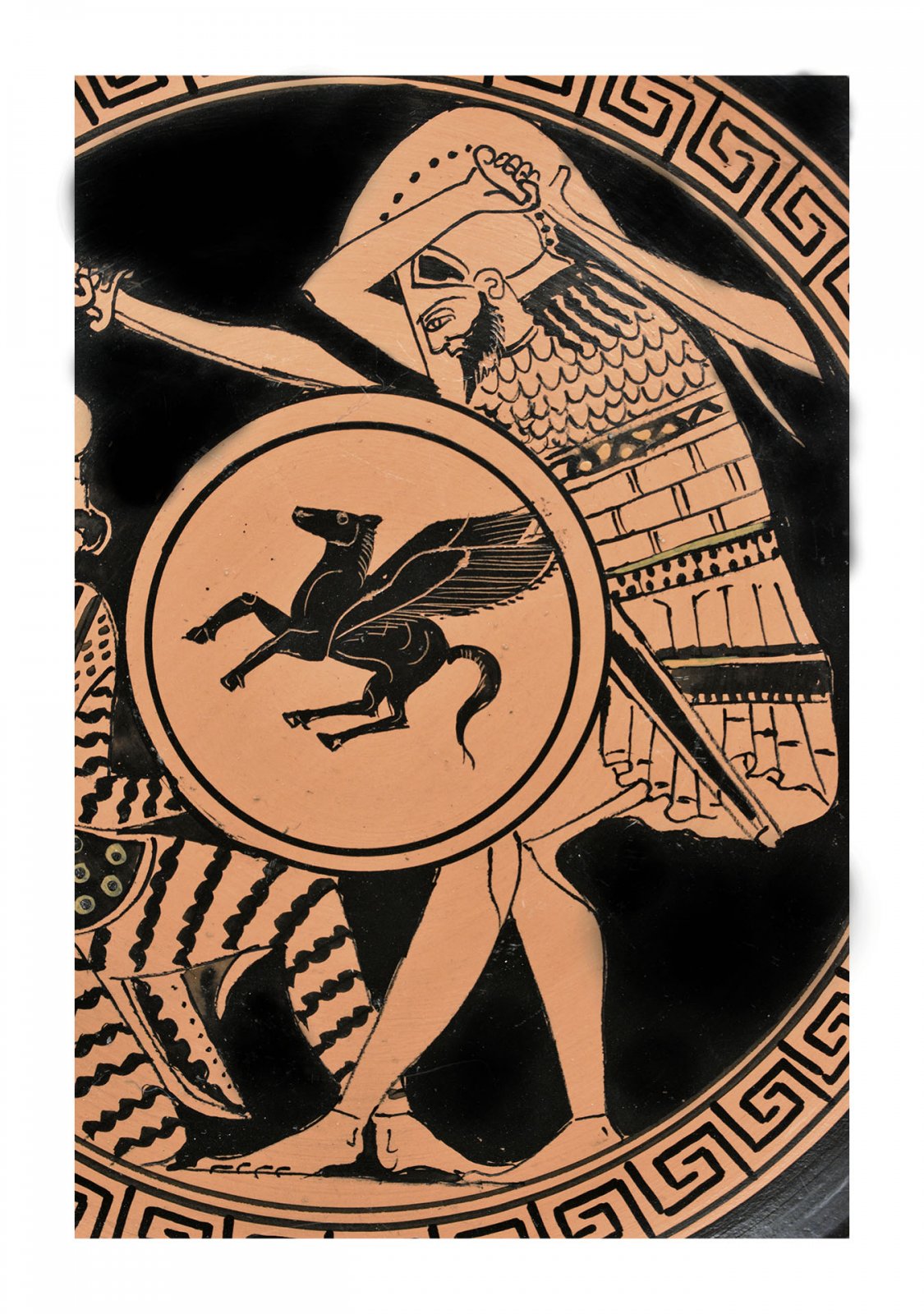 Handmade greek ceramic plate depicting a Greek hoplite (on the right) and a Persian warrior (on the left) fighting each other. The plate is a replica of the original 5th century B.C. kylix which is currently on permanent display at the National Archaeological Museum of Athens.

The Greco-Persian Wars (also often called the Persian Wars) were a series of conflicts between the Achaemenid Empire and Greek city-states that started in 499 BC and lasted until 449 BC.

This plate depicts a Greek hoplite and a Persian warrior fighting each other. The Persian warrior is shown in the moment of attempting an extremely defensive movement away from the enemy, his body moving backwards and raising his right arm which wields his sword.

The 'hoplites' were foot soldiers usually drawn from the members of the middle-classes (in Athens called the zeugites), who could afford the equipment necessary to fight in this manner. The heavy armour usually included a breastplate or a linothorax, greaves, a helmet, and a large round, concave shield (the aspis or hoplon). Hoplites were armed with long spears (the dory), which were significantly longer than Persian spears, and a sword (the xiphos). The heavy armour and longer spears made them superior in hand-to-hand combat and gave them significant protection against ranged attacks.
​
The Persian warriors wore a shirt and trousers with a girdle-harness around the waist holding weapons and a Phrygian beret on their heads. They were armed with short spears, light wicker shields and deadly, powerful composite bows.

Dimensions
28 x 28 x 2 centimeters
11.02 x 11.02 x 0.79 inches
Material
Ceramic
Color
€95.00
You may also like these products